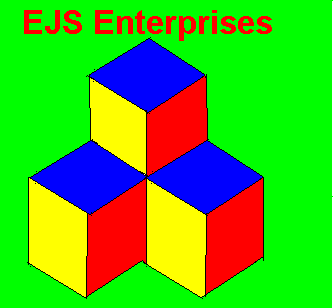 MY CV
ERNEST JOSEPH SMITH BSc AMIEE.
9 GOLDEN GROVES, RYDE, PO33 3UR. TELEPHONE: 01983 - 61 61 64
EMAIL: EJS@CLARA.NET
PROFESSIONAL QUALIFICATION: AMIEE.
PROFESSION: Electronics / Software Engineer.
EDUCATION:

BSc Hons Degree Computer Science and Electronics.(2-1)
Royal Holloway College, University of London, 1993-1996.

Open University Foundation courses
T102 Technology 1992
M101 Mathematics 1993

BTEC NC Electronics (Hastings College), 1989-1990.

CITY & GUILDS LI 224 Electronics Servicing (Parts 1 and 2).
EMPLOYMENT:
EJS TECHNOLOGY, Producing Software Products for retail.

BEACON COMPUTER TECHNOLOGY, The Ring, BRACKNELL.
SOFTWARE ENGINEER.
Development of systems in C, Visual C++ with MFC for clients. Software Product Development experience.

COMTEK ELECTRONICS, Preston Road, READING.
ELECTRONICS ENGINEER.
Maintenance, Fault finding and repair of computer communication equipment Installation and testing of unit and driver software. Use of C, C++, Pascal. During which I was awarded AMIEE and a part 1 registration with the Engineering Council.

RACAL ELECTRONICS, Bennett Road, READING.
ELECTRONIC TECHNICIAN.
Testing PCBs with aid of computer, and manual fault finding to component level.

CAP LONDON, Long Acre, LONDON.
COMPUTER PROGRAMMER.
Contract for London Buses until completion. Maintaining PC system serving Optician retailers.

LONDON TRANSPORT, 55 Broadway, London SW1.
COMPUTER PROGRAMMER.
Researched, Designed, and Implemented the oriiginal Bus Time schedule compiling system (CABS). Also maintained system during warranty period.

BRITISH RAIL, Melbury Terrace, London NW1.
COMPUTER OPERATOR.

ERNEST JOSEPH SMITH
EXPERIENCE:

Maintenance, fault finding and repair of computer communications equipment. Electronic fault finding on military radio sets. Software Development of medium to large systems using mainly C/C++, Visual C++ MFC. But also Pascal, FORTRAN, COBOL, Basic on various hardware systems. Applications include Bus Time Scheduling, Share/Unit trust price recording system, file editors.

OTHER INTERESTS:

Technology; Electronics, Software, Learning. Interest in CAD packages, internal workings, internal representation of data in CAD.
ERNEST JOSEPH SMITH
SUMMARY OF SOFTWARE SKILLS
MS-DOS
Microsoft C
C++, Visual C++ MFC
PASCAL, TurboPascal.
Windows95
Use of Packages:


Microsoft Windows 3.0/3.1/WFW/Win95
Internet explorer & HTML 4.0
Works, Excel, Paradox, Word


CAD Systems:


Cadence (Digital circuit design)
Chipwise (VLSI CMOS chip design)
Spice
EasyCAD


Other systems:


UNIX
X-Windows
UNIX Pascal, C / C++
Object Oriented Programming.
FORTRAN
COBOL
BASIC
JACKSON Methodology


Detail:

Development of Computer Aided Bus Time Schedule system for London Transport Buses. The purpose was to achieve accuracy and productivity in the production of time-critical bus timetables, it could tabulate travel times between points according to times of day, threading vehicles through schedules, and could handle small network groups of routes. It also had Database handling capability for entire network.

Recently written/amended and fault-found and tested various programs written in Visual C++ MFC at Beacon Technology, for implementation in future projects.

A Share/Unit trust price recording and reporting system for DOS with screen graphics interface, I'm developing a replacement for Windows95 in my spare time. Several other systems involving representing data object with use of dynamic storage allocated digraph structures. Experience with processing of visual images in storage as 3rd year assignments.

ERNEST JOSEPH SMITH

SUMMARY OF ELECTRONIC SKILLS

WORK EXPERIENCE:

Fault finding in electronic systems to component levels on Complex Radio system used by the military including Analogue/ Digital conversion and encryption. Diagnose faults on Computer communication products: internal, external and PCMCIA technologies, with aid of manufacturer's diagnostics packages, then further down to component level.

Technologies include: Maintenance of Ethernet 802.3 including PrintServer cards, Token-Ring LANs, Knowledge of: FDDI, Orwell, (Token Ring network), DBDQ (Bus network layout)

UNIVERSITY PROJECT 1: DIGITAL OSCILLOSCOPE.
Design and building a prototype Digital Storage Oscilloscope. The purpose of which is to get a steady display of all waveforms at any triggered moment of time including when waveforms were not periodic. The input would be sampled, converted to digital to be stored in RAM until a steady display was triggered on a control line which will retrieve and convert back to analogue and scaled to Y drivers on CRT. The X driver being fed from ramp waveform from timebase circuit.

UNIVERSITY PROJECT 2: 4 BIT ALU AND 4 REGISTERS
The ALU was designed in modular CMOS; First the basic full adder was conceived then tabulated, then logic was added so that it can perform full 4 bit addition, subtraction by complementary addition and the basic logic functions: OR, AND, NOR, NAND. XOR and compare. Storage registers are made up of tabulated back to back CMOS Nand gates.

---

To contact EJS technology - Email : EJS@CLARA.NET

RETURN TO EJS TECHNOLOGY HOME PAGE